notes from the boat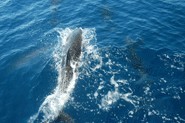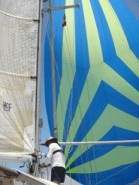 It's been a week since we left Ensenada and a week since we walked on land! We thought we'd time our departure from Ensenada to coincide with 15 knot winds all the way down the Baja peninsula. We'd cruise down to Cabo San Lucas in about four days. Perfect. Around into the Sea of Cortez and Bob's your uncle. Or so we thought.

For the next week we had everything from absolutely no wind at all, wallowing around in giant swell about a hundred miles offshore to 30+ knots where we surfed to our top speed of 10.6 knots, the record to beat.

Days and nights blend into on and off watches. Our usual watch system consists of three hours on and three hours off during the night, allowing the other person to get some sleep. During the day we read, sleep if necessary, eat, hoist the spinnaker, eat, watch for wildlife, eat more, take down the spinnaker because the wind's changed, wait five minutes then raise the spinnaker, start the engine because there's no wind, kill the engine because the wind's picked up and then madly reef because the wind's hit 30 knots!

The night watch is a time for reflection, realizing how small we are in this vast ocean, surrounded by the enormity of the sky, the multitude of stars, matters of importance tend to take on a different perspective. The main concern being we don't hit anything and no one (particularly an enormous tanker) hits us.

We've been accompanied most days by dolphins swimming in the bow wave. Standing above them on the bow it was possible to hear them communicate. We also spotted the spout from a California Grey whale on her way back to Alaska.

Great excitement the other day as Carl caught a large blue fin tuna. We're not exactly sure how big it was and unfortunately we forgot to photograph it before we ate it. A primitive moment firing up the barbeque, Carl cleaned the fish and we tossed a couple of steaks on. Best guess was that it was about 15lbs and we were still eating it several days later. It's an amazing thing to catch a fish and within half an hour have cooked and eaten it. Being a bit on the squeamish side though, food on the hook is a bit too real and all eyes were averted while Carl did the honours with a winch handle.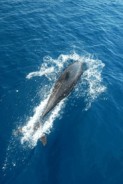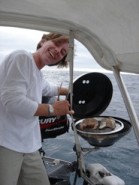 ©2005. All rights reserved. Designed by It's a Gem (www.itsagem.com)