notes from the boat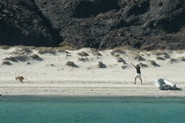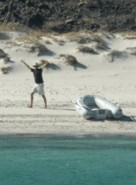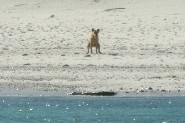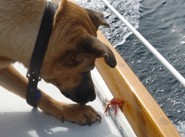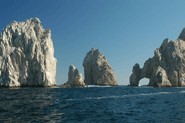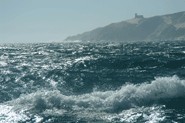 We spent a night anchored in Bahia Magdalena about two thirds of the way down the Baja coast. As we headed into the bay we noticed hundreds of little red swimming lobsters. We'd just finished reading Steinbeck's "The Log from the Sea of Cortez." When Steinbeck approached the same area over sixty years ago, he was greeted by the same swimming lobsters (known locally as Langustina). It was reassuring to know that it's not all doom, gloom and over-fishing. We did catch one in a net to show Winston and photographed them together. Winston was very intrigued by the little creature.

The unscheduled night in Bahia Magdalena resulted from Carl not wearing his reading glasses when he checked the fuel gauges and being convinced we were going to run out of diesel before we hit Cabo San Lucas. Closer inspection revealed that we did, in fact have plenty of fuel but we enjoyed a quiet evening and a full night's sleep and then headed off (with loads of wind) towards Cabo San Lucas!

The approach to Cabo was amazing, beautiful rock formations with huge waves crashing on them. The wind increased in speed gusting at times to over 40 knots. Then suddenly we came around the headland, the wind dropped completely, the temperature rose by at least 20 degrees and two girls on a jet ski sped past us shouting "woo hoooo!" It was a surreal moment. We were still wear life jackets, harnesses and fleecy sweaters and looked and felt like arctic explorers!

We spent a night anchored in the bay at Cabo San Lucas. A rollercoaster of a night as we were knocked around by waves coming into the bay and no one had much sleep. It's a beautiful bay and must have been spectacular before it was discovered by the typical "let's party" tourists. We could hear the music playing from the beach, it sounded suspiciously like "We will, we will rock you..." Surprisingly we decided to stop only briefly. When we awoke an enormous Carnival Cruise ship had pulled in and was anchoring not far off. Considering that these ships hold about 2000 passengers and another 1000 crew all ready for margaritas, we decided to leave.

It was a typical story with the wind as we headed away from Cabo. Every person we've spoken to has warned us of the high winds and unpredictable seas in this area. What we get...not enough wind to sail and a sea like a mill pond. So we ended up motor sailing and headed around the pointy bit of Baja California and finally into the Sea of Cortez. Instantly the water temperature rose to 77 degrees (25 C), similar to a warm bath which means the end of swimming in Southern California where the frigid waters linger around the mid 60s. Average summer temperatures in the Sea of Cortez are in the high 90s with 100% humidity. Can't wait for that!

Heading north in the Sea of Cortez. The temperature was still around 80 degrees and very humid at 9:30pm, pitch black with very little light pollution so the stars were incredible. Every so often a flying fish skittered across the surface of the water illuminated by our running lights, we disturbed a school of them which made an amazing sight as they scattered in all directions.

Just outside La Paz we anchored in a small, unmarked cove with emerald green water and brilliant white sand. Carl and Winston went ashore for the first time in over a week and Winston for one, was very excited. Man and dog stepped onto the uninhabited beach and took their first unsteady steps. After resting for a few hours we were off to La Paz where we planned to spend a week.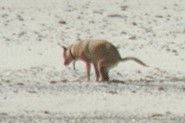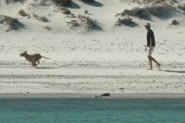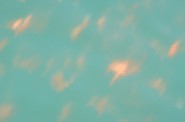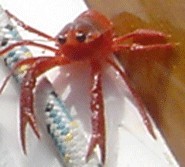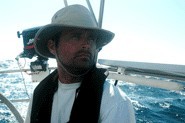 ©2005. All rights reserved. Designed by It's a Gem (www.itsagem.com)