notes from the boat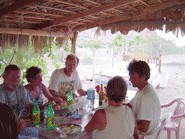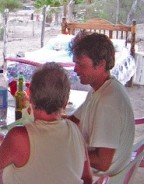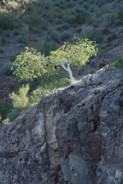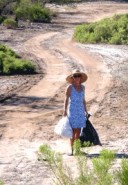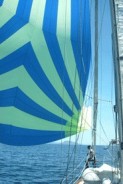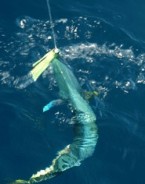 With a reluctance to say goodbye to La Paz we finally raised the anchor just after midday on Sunday, July 10th. The weather was hot (there's a surprise), winds variable (we had everything from 20 knots to absolutely nothing) and we headed out to our first stop, Isla La Partida.

La Paz to Isla La Partida and Isla Espiritu Santo was a short day sail, we set off with good wind and managed to hook a small Dorado (Mahi Mahi) on the way, not as impressive as the first rod-breaking Dorado but that was dinner taken care of. Things were looking good. About half way there the wind dropped and the temperature rose and just before sunset we anchored in a small bay at Isla La Partida. It was a picturesque setting but as the sun set we became acquainted with the invisible flesh munching insects known as no-see-ums.

We had thought La Paz was hot but until you're trapped in a cabin in 95 degrees, humidity off the scale, invisible insects outside and festering bags of rubbish inside, things don't seem so bad. We sat pathetically around the fan for a while staring at it fixatedly and finally managed to eat dinner in the dark. Surprisingly it was not the most pleasant of evenings and a hot, somewhat sleepless night followed.

In order to address some of the sighs of envy with regards to this recent lifestyle change, the concept of sailing off into the sunset drinking dry martinis is far from reality. We read recently that anyone considering going cruising (the favoured term for this sailing malarkey) should try living in their bathroom. It's roughly the same size, there are dubious smells, take someone else in there with you and throw buckets of cold water over each other. Add a couple of bags of rubbish that you can't throw away because you're in a remote anchorage, insects, jellyfish, extreme temperatures, heat rash and lack of sleep and you've just about got it!

From Isla La Partida we headed to Isla San Francisco another day sail away. Since leaving La Paz we noticed that our electronic charts were no longer entirely accurate and had shown us sailing across land at certain points, not a good thing. The confusion was cleared up when we discovered the electronic charts for the Sea of Cortez were based on the only charts of the area made in 1895. So there'll be no more night sailing for a while, probably not a bad thing though considering the insects.

Isla San Francisco was another overnight anchorage. There we encountered the invisible stinging jelly fish we'd been warned of and more of the little flesh munching no-see-ums. We started swimming in sexy long lycra underwear to avoid the stings and added another line to our diminishing vocabulary..."Where's the fun?" Then after hearing our first tropical storm warning (even more fun) we decided to head north, flying the spinnaker most of the way and it was off to Bahia Agua Verde.

The storm turned out to be nothing to worry about (much to the disappointment of amateur weather forecaster, Don) and Agua Verde turned out to be a beautiful bay with promised green water and rugged mountains in the background. One of the most talked about anchorages in the Sea of Cortez we could see why as we pulled in and anchored among the eight boats already there. It was protected from possible storms, plenty of fish visible in the emerald green water and an easily accessible beach with crabs to chase for Winston. No insects around, just the occasional invisible jellyfish and so we decided to stay for a couple of days or a week. One thing we've noticed is that a week means a month and a couple of days means a week, it's a manana thing and there's always tomorrow.

We were invited to attend a local "Goat Feed" with the other cruisers in the nearby village. Having heard tinkling bells in the hills we imagined feeding the goats as they trotted down from the mountains and Carl asked facetiously if he could just pet them. We thought it was hilarious as we were informed very seriously by the other cruisers that we in fact, ate the goat. The actual event wasn't nearly as exciting as the goat turned out to be rather a tough old thing and certainly not worth the hundred pesos each (roughly $10) we were charged. Still, the village did very well out of it and we felt we helped support the community if not the goat.

Fishing has continued in Agua Verde very successfully. We've barely tasted the hundred tins of chicken we left LA with as we've been eating almost exclusively from the sea. We were taught how to dig for local clams and managed to eat three each (not loving shellfish) as we shared the catch with two other boats. We also discovered that Roosterfish are one of the most sought after game fish in the world. People pay thousands of dollars to come here and try and catch the wily Rooster, few succeeding. Well, yesterday Gemma landed her first fish and it was a Roosterfish, great excitement. Carl caught another couple and perhaps being slightly biased this might be the most delicious fish we've caught yet!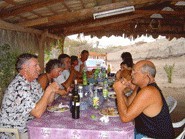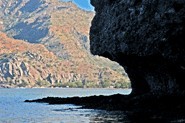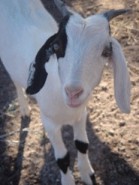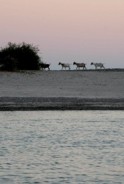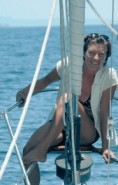 ©2005. All rights reserved. Designed by It's a Gem (www.itsagem.com)