notes from the boat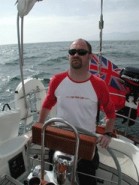 We've seen Simon in several places around the world including Australia, France, LA several times including the maiden voyage of Indigo Moth, and in the UK and so we thought it was very sporting of him to come and visit us in the Sea of Cortez especially as he lives in London and is used to a slightly more urban lifestyle. Despite the pulsing Loreto nightlife, the locals' Friday night truck rally up and down the main street and the culinary delights of the local restaurant at the burnt-out trailer park, to be honest the options are somewhat limited. Despite this, Carl and Simon visited the local hot spots and were able, by all accounts, to paint the town beige.

Life on Indigo Moth is not always easy. Simon had endured the challenges of the climate, was in various stages of sunburn and had large flakes of skin peeling off. He'd also managed to scrape his sun burnt shin on the fuel tank in the dinghy adding to an even greater loss of skin. He'd endured a case of Montezuma's revenge, been on antibiotics, got stung by jellyfish on his last day (having managed to avoid them the entire time he was here) and so had the true Baja experience. Despite all this, Simon was a good sport and we hope to see him again soon, perhaps a little closer to civilization.

Unfortunately one night after dinner at the trailer park Simon and Carl had returned to the dinghy to find the outboard motor and fuel tank had been stolen. At that point the boat was anchored on the far side of the harbor which would be a long row to get back to Indigo Moth, if indeed they'd had the oars. Luckily for them, some kind-hearted, slightly drunk cruisers offered to tow them back and so they were able to move the boat closer to shore so at least the row was manageable (once the oars were added).

The next day Carl spoke to Jerry on a boat named Detachment who luckily had a spare outboard motor for sale and arranged for us to go and try it out. A 15 horsepower, two stroke engine which started first go and we were back in business, only this time, faster!
©2005. All rights reserved. Designed by It's a Gem (www.itsagem.com)