notes from the boat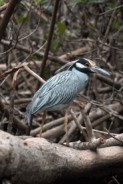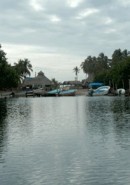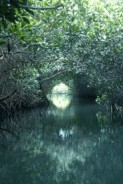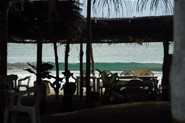 The overnight passage to Bahia Tenacatita saw us leaving Bahia de Banderas and rounding Cabo Corrientes, another of those pointy bits of land sticking out into the ocean causing all kinds of nasty, lumpy waves and strange wind conditions.

We set off in the late afternoon from Puerto Vallarta in the hope that a night passage would result in calm conditions. Mistake! Confused seas saw us heading fifty miles offshore in search of better conditions. We found wind alright, a good twenty five knots but the seas continued to be "boisterous" and the night was not the most pleasant. The crew was pleased when the anchor finally dropped in Bahia Tenacatita and in the company of twenty five other cruising boats, (making this one of the busiest anchorages we'd been in) we settled in for the night.

A good night's sleep does wonders to restore crew morale and we awoke refreshed, able to face the day and even attend the dinghy raft-up where ten dinghies holding a couple apiece met for drinks and appetizers in the late afternoon.

Bahia Tenacatita saw our first dinghy landing through the surf the west coast of Mexico is renowned for. All in all, we think we did very well as no one was lost and Winston bodysurfed his way in to shore. We now understand the importance of attaching wheels to the dinghy and will be doing this at the first opportunity.

The highlight of Bahia Tenacatita was a jungle dinghy ride up the nearby river. Many varieties of birds watched us, issuing their warning cries followed by the lazy flap of wings as we passed under overhanging branches and inhaled the stench of decay; a cloud of diesel fumes lingering momentarily over the still, teal-green water as we made our way slowly up the river. Mangroves choked the banks and we searched in vain for the eyes of a crocodile knowing one couldn't be far away but resisting the temptation to make Winston live bait in order to find out. Eventually we emerged from the leafy green tunnel where the river opened to a large lagoon and landed the dinghy among the fishing pangas.

We walked to the village of Tenacatita and the beautiful beach beyond. Empty palapa-roofed restaurants displaying Corona and Pepsi signs lined the beach. We selected a restaurant and ordered breakfast only to discover we'd chosen the very restaurant a large group of cruisers were using for a lunchtime musical gathering! We enjoyed the opportunity to join in before heading back down the river!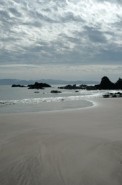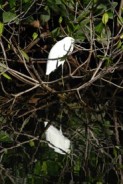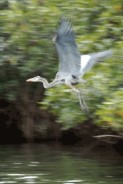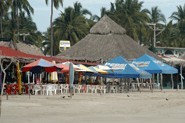 ©2005. All rights reserved. Designed by It's a Gem (www.itsagem.com)