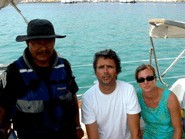 being boarded by the Mexican navy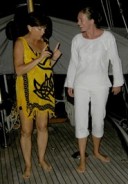 sylvia explains salsa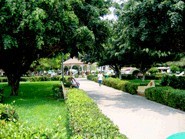 the main square or zocalo, huatulco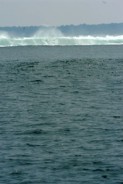 rear view of the breaking surf at the bar at bahia del sol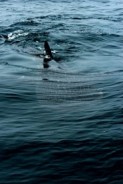 hard to see but there's a whale shark in there somewhere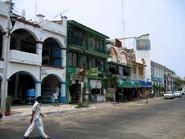 main street huatulco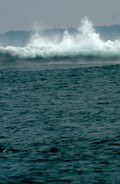 remember, it looks worse from behind!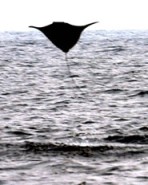 gives us a high-five!
Leaving Zihuatanejo we headed south with a few reluctant backward glances as it really had been one of our favourite places in Mexico. Waving goodbye to Naiad, we turned left out of the bay and set a course for Huatulco, our final Mexican destination.

Three days of fantastic sailing followed which made Carl happy as he loves adjusting the set of the sails and tries to go just that little bit faster. As a result, we arrived earlier than anticipated and crept into Huatulco in the middle of the night, the lights of the pier being useful to guide us in.

Zihuatanejo was a hard act to follow and we didn't warm to Huatulco immediately. We caught up with several other boats and enjoyed meeting new people, did some shopping and basically prepared ourselves for crossing the Gulf of Tehuantepec.

One of the problems we find is that everyone has a horror story and the Gulf of Tehuantepec, renowned for high winds and short, choppy seas is one of the most feared passages in Mexico. Fear breeds fear and so quite a lot of nervous people set sail from Huatulco heading to Guatamala, El Salvador and beyond.

We were determined not to be affected by this so our final day in Huatulco was spent buying Mexican ceramics and attempting to ship them back to the US. This was a complete debacle as we'd asked the shop to box them for shipping and so the ceramics were packed in old cardboard cereal boxes. Not the most protective packaging and surprisingly, bubble wrap was not available (and try asking for that in Spanish). The day was spent with our amazingly patient taxi driver, Fernando, who drove us around Huatulco endlessly, helped us find a man who could build wooden crates, packed the crates with us and then took us to the local Fedex distribution center. We learned many new words that day including las cajas de maderas (boxes of wood), met many helpful people and by the end of the day, we'd really enjoyed being in Huatulco! We do apologise to Catherine though, who is going to receive two, really quite large wooden crates back in LA, so sorry about that, it seemed like a good idea at the time!

Heading off the following day we were awakened by the start of a local fishing competition. 7am and approximately 70 fishing boats and pangas lined up revving their engines furiously for a La Mans start. In true Mexican style, the celebration had ended around 3am by the local disco loudly playing "I will Survive" in Spanish only for things to restart at 7am. One insightful fisherman had come prepared fully loaded with speakers and was playing "Another one bites the Dust" (in English), hopefully the competition was intimidated, hopefully they understood the words!

And so we were off in the wake of the fisherman. Humming "Another one bites the Dust" we headed out across the Gulf of Tehuantepec and decided to sail straight across as the wind was good, the sailing and the fishing excellent. Carl, in a short space of time caught three tuna, two skipjack and had two Marlin briefly on the line and was wishing he'd entered the fishing competition. We were off to a good start! Halfway across the Tehuantepec however, the wind predictably died and we spent the next day motoring in a hot, sticky fog of diesel fumes, not our favourite thing to do especially when covered in SPF 70 (yes, seven zero) sunscreen to try and avoid excessive sun exposure (memories of pieces of jerky in the Sea of Cortez).

Three days out from Huatulco, we were off the coast of Guatamala. It was around midnight, there was no wind and in the distance we began to see lightning flashes. Despite the lack of wind, Carl judiciously put a double reef in the mainsail and prepared for possible bad weather. Two hours later, we were in the midst of an incredibly fierce electrical storm. Huge shafts of lightning struck the water around us, the smell of burnt ozone filled the air; the wind picked up and we quickly went from 5 knots to over 50 knots. The wind literally howled and the storm felt like a great beast surrounding us, lashing out from every different direction. Waves broke into the cockpit and we were drenched; Carl took the helm just as the engine died and we found ourselves without power, heading offshore for safety. The squall lasted about five hours and as daylight broke we were finally able to relax. We had damage to the mainsail and the problem with the engine but otherwise everything was fine and we were pleased with the way the boat had handled the weather. A school of dolphins arrived and swam alongside for a while and a large manta ray jumped and gave us a high-five so we felt we'd done ok. No one had panicked, Winston hadn't tried to jump ship and everything below was dry. Finally the rain cleared and Carl worked out that the problem with the engine was a blocked fuel filter. Changing it, we found the engine worked again and so Carl put his foot down and floored it towards Bahia del Sol, El Salvador.

We were able to repair the mainsail also whilst underway so with Indigo Moth as good as new, we picked up speed again, stopping briefly as we noticed a large fin in the water. Slowing down and approaching, we had our first glimpse of a whale shark. A strange looking creature indeed, a spotted hide and large plankton-feeding mouth, it lounged around on the surface swimming close to the boat and didn't seem threatened by us at all. Small, by whale shark standards as they can grow up to forty feet (we think), this one was about 15 feet long and to be honest, looked like it was made of rubber. A little while later we saw a second, larger whale shark at which point Carl declared they were as common as muck, and didn't bother stopping!

On we went until finally we were an hour away from our destination, Bahia del Sol. Spotting yet another object in the water, we slowed down and approached curiously and discovered to our horror, the body of a man floating face down and very obviously (and odourously) dead. We noted the GPS position and radioed the local marina where we were told that two people had been lost swimming a few days previously and unfortunately for us, this was probably one of them. The marina took the coordinates and advised us to keep moving as it was better not to get too involved. The following morning a navy boat approached us while we were anchored and called perhaps one of the strangest pieces of radio traffic we've heard... "Indigo Moth, Indigo Moth, this is naval patrol. We want to talk to you about a dead body!" Luckily we weren't being held responsible, we were able to give a description and coordinates and later that day the body was recovered and confirmed that it was indeed one of the lost swimmers. A surreal welcome to El Salvador.

Anchored outside Bahia del Sol we were faced with crossing a large sand bar with breaking surf in order to gain entry into the lagoon beyond. We'd read emails from boats before us crossing the bar, experiences including large waves breaking into the cockpit causing damage and flooding below, one boat suffered a knock down and everyone offered advice. The view from the back of the waves was intimidating to say the least as the wind was blowing the top off the surf and the swell was enormous but it was a case of "Gentlemen, start your engines" and so, with the engine running furiously, we were off.

A pilot boat was positioned inside of the bar and called us through the channel, Carl on the helm surfed down a small wave and steered us safely through and so we entered the lagoon of Bahia del Sol finding about thirty boats anchored in the calm waters beyond.

The question now is... will we ever get out of here?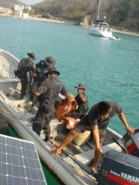 mexican navy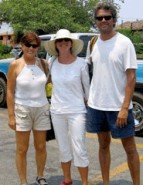 huatulco with sylvia from "windcastle"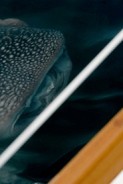 the mouth of the whale shark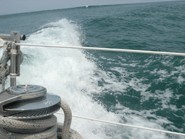 crossing the bar at bahia del sol, not so bad after all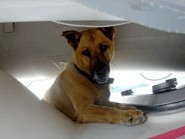 winston's new hiding place, under the dinghy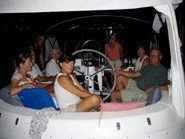 gathering onboard "romanc'n the zea"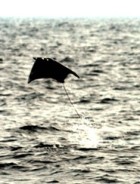 a manta leaps out of the water and...
©2005. All rights reserved. Designed by It's a Gem (www.itsagem.com)