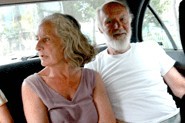 barbara and rick, "kirkham annie"
a favourite pastime- watching new boats cross the bar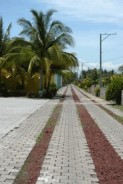 it's a long walk back from the beach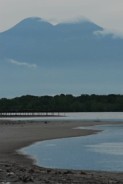 nearby volcano seen from the lagoon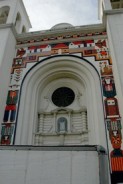 the cathedral, completed in 1990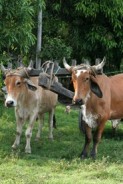 local cattle with traditional yoke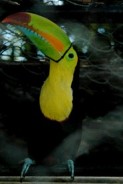 resident toucan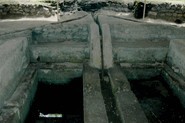 indigo processing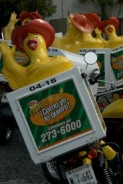 the camparo chicken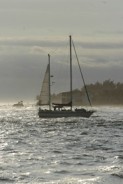 this one made is safely!
Our arrival into the lagoon at Bahia del Sol had gone smoothly and we set about the usual business of dealing with immigration and the navy. In contrast to Mexico we found the system in El Salvador to be pleasantly refreshing. Within a few minutes of anchoring, a boat pulled alongside us and dispatched an immigration official and a representative from the navy. They took our paperwork, passports and welcomed us to the country. There was no fee and our visas were waiting within an hour at the reception of the nearby Hotel del Sol. How very civilized!

We wandered ashore and found a somewhat rundown looking hotel with multi-colored concrete buildings, two somewhat rundown looking swimming pools and the least picturesque beach we'd ever seen. War torn was probably an apt description and we wondered why numerous boats were flocking here to enjoy the delights of Bahia del Sol.

To add to our initial disillusionment, we decided to sample the local cuisine. Heading to a nearby restaurant (one of only two) we discovered the dubious local delicacy known as the pupusa. Our first experience of the pupusa was of a dense corn tortilla, thicker than any Mexican tortilla in existence and stuffed with cheese, beans or the very exiting combination of cheese, beans and pork. Or you could just have cheese and beans. Add to that a pickled cabbage and onion mixture known as curtido and again we were feeling a little confused about the allure of El Salvador.

On a positive note though we realized that having done so much fine dining (or troughing as we like to refer to it) in Mexico, we were obviously going to lose a lot of weight in El Salvador and return to our svelte figures of before. Combined with the fact that the walk to the beach takes at least ten minutes, the weather is incredibly hot and humid and sweat runs constantly, we felt we could look on our time here as an excellent way to cleanse the system, be healthy and get fit. Or so we thought...

until we discovered Cruiser Happy Hour.

At 4pm every afternoon, those adventurous souls currently anchored at Bahia del Sol descend on the hotel to wallow in the warm bath-like water of the swimming pool and enjoy a couple of cold cervezas, (the local brew being Pilsener) for the bargain price of $1 a beer. Drinks are two for one which means you get two drinks when you order one, a strange custom but we're not ones to argue. And it's easy to spend a couple of hours hanging out in the pool meeting people and comparing horrific experiences crossing the bar. So far, we're the only people to have found a dead body.

Walking to the beach to explore, we discovered a marañon tree growing a crop of cashew apples. The edible fruit of the marañon looks similar to an orange bell pepper; the major difference being a two layered hard shell growing at the end of it. Inside this shell and initially poisonous until roasted, is a single cashew. Quite fascinating.

The day came when we felt ready to explore a little of the surrounding country and so we booked our personal taxi driver, José for the day and in the excellent company of Rick and Barbara from the boat "Kirkham Annie" we headed into San Salvador.

José had been well trained by American cruisers and headed straight to the largest mall in San Salvador to a fast food chicken restaurant called Camparo. We explained that we'd like to try a small Salvadorian café for breakfast and no, the nearby "Mister Donut" wasn't quite what we were looking for either.

Heading into the historic district of downtown San Salvador, we found a pupuseria and sampled again the dubious delights of the pupusa. This one however was made with rice flour and in contrast to the corn flour was delicious although the fillings seem standard. The locals enjoy a pupusa for breakfast, lunch, an afternoon snack and even sometimes dinner so while converted, we're holding back on enjoying the full experience.

San Salvador has very little in the way of a tourist industry. We were the only tourists walking the streets and the only relatively white people around. It's quite a novel experience, Carl is again at least a foot taller than anyone else we've seen and very easy to spot in a crowd. The country has a number of volcanoes and suffers from seismic tremors and earthquakes resulting in a fairly small historic district. Nevertheless, we explored the cathedral (Catedral Metropolitana, started in 1970 and completed in 1990), El Palacio Nacional (the National Palace) and the church of El Rosario, an interesting semi circular structure which must have been built in the 50s judging by the integration of rainbow colored stained glass capturing the sunlight.

As the main museum was closed (it being Monday, who knew?) we headed off to the Military Museum which was also shut but apparently they don't get many visitors as they opened up and to our delight, gave us a special tour.

Many guns later we were shown their pride and joy, a large scale relief map showing the whole of El Salvador. It was quite fascinating and we were able to get our bearings from Bahia del Sol to the top of the steepest volcano. We were also lucky enough to spot the rare national bird, apparently very hard to see (of course we saw two!). Unfortunately though, we'd forgotten to take a camera so this day is fairly limited as far as visual references go.

José, with the patience of a saint, then ploughed on with us to a fantastic mountain nearby known as La Puerta del Diablo, the door of the devil. Steps cut into the mountain sides allow easy climbing to the top and the sheer drop below was somewhat disconcerting when faced with the complete lack of safety provided by a lone wire wrapped around a dead tree trunk to create a barrier. The view was spectacular though and the temperature, pleasantly cool.

The day continued as we reached the Galeria shopping mall where we were able to buy our Salvadorian phone chip and get ourselves online again. Due to Carl's excellent technical knowledge we can now check email (albeit at great expense) on the boat and are saved the inconvenience of a twenty minute mad dinghy ride up the estuary to the nearby fishing village of La Herradura in order to send out these exciting updates.

Culminating in an excellent Chinese meal ordered in Spanish, where spring rolls became tacos de primavera; we finally returned to Indigo Moth at 11pm, exhausted but just in time to close the hatches before the nightly downpour began in earnest.

We are now officially in the rainy season and each night we are treated to a spectacular and (very close) display of tropical lightning. Combined with winds, torrential rain and strong currents, we are settling into the nightly routine of getting up at 1am to check everything is still where it should be. So far one boat in the anchorage has been struck by lightning and another five have dragged their anchors. It's all good fun though and sleep deprivation is just another of those joys of the cruising life.

Venturing out again with José we discovered the Zone Rosa (usually the nicer part of a Latin American town) where Carl finally found his café, good coffee (after all, they do grow it here) and excellent bread. Happy and replete, we trotted off to a nearby archeological site, San Andrés where diligent people have uncovered the ruins of a pre-Columbian village. Adjacent to the site we were able to see a traditional indigo processing area where the leaves of the añil plant were trampled extracting the deep blue dye within.

And so it turns out that despite our initial misgivings, El Salvador is a country of hidden depths, character and beauty. The people are friendly and we're finally getting the hang of the accent. We've discovered interesting places as we've ventured out and about and we feel there is much more to see here than initially meets the eye.

We may stay for a while because after all, no one seems to be getting out of here and we're now preparing for the first tropical storm of the season. While they typically head north to create hurricanes, this one is breaking with tradition and is heading straight for the coast of El Salvador!! Lucky us!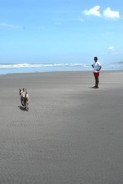 on the beach, el salvador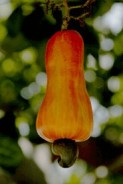 the fruit of the maranon, the cashew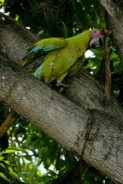 resident macaw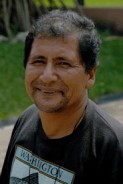 the indefatigable José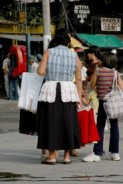 frilly aprons are a fashion must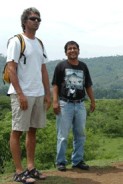 towering over José, carl stands out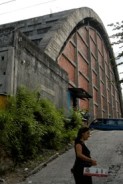 the church of el rosario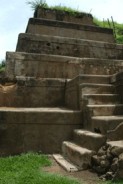 the ruins at san Andres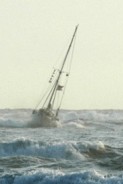 crossing the bar, view from land
©2005. All rights reserved. Designed by It's a Gem (www.itsagem.com)