A local girl selling vegetables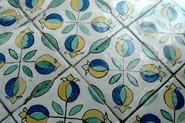 the tiles in our bathroom at casa capuchinas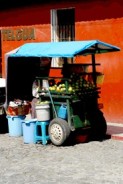 color, color, everywhere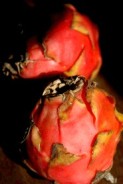 A new fruit for us to try - the pitalla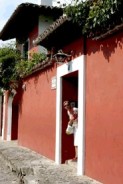 the entrance to casa capuchinas... who's that hiding in antigua?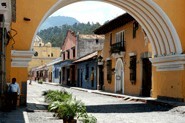 through the arch, the street beyond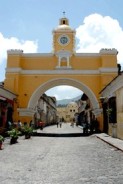 antigua, guatemala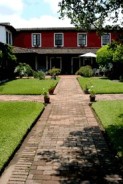 the secret garden beyond, casa capuchinas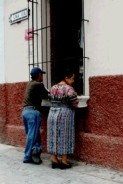 the native costume worn by women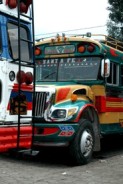 recycled school buses get a paint job
doorway, antigua
Rick and Barbara (from "Kirkham Annie") had been in Costa Rica and we waited eagerly for their return as they had generously offered to look after Winston for a few days. Luckily dogs can't read because to be honest, it's quite limiting traveling with a dog anywhere, but particularly Central America where dogs really are "anima non grata".

The day after Rick and Barbara returned to Bahia del Sol, we headed to San Salvador to spend a night before taking a 6am bus to Guatemala City. San Salvador is yet to reveal its secret bed and breakfasts or luxury boutique hotels (if they exist), the Hilton was full so we opted for the Holiday Inn with dinner at a very dubious Argentine restaurant nearby.

Despite the limited choice of hotels, it was a refreshing change to have a real shower with endless water. We shower by the pool in Bahia del Sol using the outdoor showers, shampooing our hair as gun-toting security guards walk past. The pipes are old and the water smells rusty, one never feels quite clean but safe... very safe!

6:30am and squeaky clean, we were sitting on a luxury bus heading to Guatemala. Being Central America, the bus was half an hour late but no worries, it was clean and very comfortable and we were excited to leave El Salvador. A round trip ticket cost $22, very good value and crossing the border into Guatemala was a breeze (except for Gemma losing her yellow El Salvadorian exit form, but they're very laid back about things here, so no problem).

Five hours later we arrived in Guatemala city and took a taxi to Antigua. Less than an hour's drive from Guatemala City, Antigua turned out to be an incredible town. Founded in the 16th Century, Antigua was the former capital of Guatemala before damage by earthquakes resulted in the capital being relocated to Guatemala City (although not quite far enough unfortunately as earthquakes continue). Home to many beautiful churches and monasteries and framed by volcanoes, Antigua is now a world heritage site and the building and signage restrictions are incredibly strict.

Color and design are abundant in Antigua. Hand woven fabrics are offered for sale by women wearing native costume; patterns and colors are worn in all manner of combinations and yet nothing clashes. Walls painted warm yellow, terracotta and ochre with enormous wooden gates and shuttered windows line the streets while colorful tiles highlight the floors. Fringes of bougainvillea and tree tops hint at the lush courtyard gardens within.

At first glance it seems that Antigua may have escaped from the ever present American fast food restaurants but have no fear, there's Domino's Pizza, Burger King and McDonald's all lurking but they're in camouflage gear; in the case of Burger King, the only indication a small brass sign attached to the wall. Well done Antigua!

Within an hour of arriving in Antigua we found ourselves seated in one of the best restaurants in Antigua, Nicolas. Carl has a nose for these things and can usually find the best hotel and best restaurant within minutes of arriving somewhere. True to form, within five minutes of eating in Nicolas we fell in love with Antigua and Guatemala and vowed never to eat a pupusa again, not a difficult thing to do!

Duck terrine with a concentrate of cherry; a crisp dry white wine; a cooked version of Steak Tartare, surprisingly delicious; and to complete an almost perfect meal, a moist apple cake with fresh cream. Nicolas introduced himself, a Norwegian living in Guatemala, cooking international cuisine; an interesting and very successful combination. Or of course, one could have a bean and cheese corn flour pupusa... it's a hard choice!

Checking in to the Hotel Casa Santo Domingo, we realized we'd found a very special hotel. Built on the grounds and ruins of a 16th Century monastery, Hotel Casa Santo Domingo had managed to integrate a five star hotel into beautiful grounds utilizing the ruins in a sensitive and appropriate design. Fountains splashed gently into reflecting pools, candle-lit cloisters, lush plants and excellent design made this a memorable stay. Unfortunately though, the only room available was a suite but as we're used to suffering terrible hardships, we made do. A living room upstairs with a spiral metal staircase to the bedroom below, it was pretty nice however we soon discovered that carpet doesn't do well in the tropics as a musty smell pervaded the air and we were both smitten with allergies.

Sneezing violently, we braved the delicious breakfast buffet and discovered the pitalla (pronounced pit-aya), a fruit like nothing we'd seen before. Similar to a crimson artichoke on the outside, slicing it in half revealed bright magenta flesh dotted with small black seeds. The flavour was somewhat similar to a kiwi fruit but the color made it so much more fun!

Unfortunately after staying in the Casa Santo Domingo for two nights we were kicked out as they were full. We moved to a delightful bed and breakfast called Casa Capuchinas and opening the gate, we discovered a gorgeous secret garden and very personal five room hotel beyond. A different atmosphere and much cheaper than Casa Santo Domingo, we enjoyed the contrast and would highly recommend both options.

All too soon it was time to leave Antigua and reluctantly return (sorry Winston) to Bahia del Sol. We would love to return to Guatemala and explore the country further, possibly take a Spanish immersion course for which the area is renowned and learn how to weave using a back strap loom however before any of that is possible, we discovered that computers and bacon fat don't mix...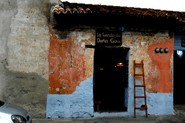 a typical storefront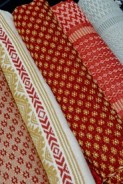 hand woven Guatemalan fabrics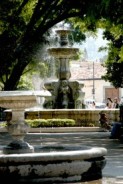 fountains in the main square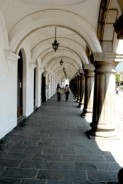 spanish corridor in the main square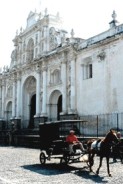 in the main square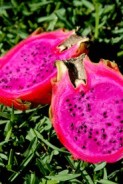 inside the pitalla - insanely beautiful and delicious too!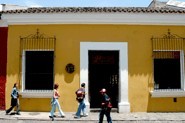 burger king in camouflage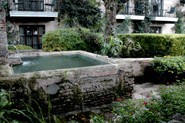 one of many fountains at hotel casa santo domingo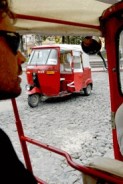 taxi! A bumpy ride guaranteed over cobbles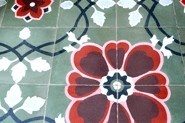 very cool floor tiles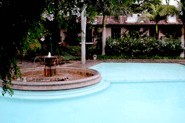 the pool at casa santo domingo
©2005. All rights reserved. Designed by It's a Gem (www.itsagem.com)